Back to staff directory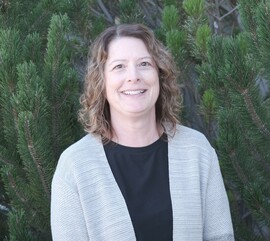 Elementary - Grade 4 Teacher
https://sites.google.com/site/moreforgradefour/
I was born in Kingston, Ontario, moved to Victoria, BC when I was 13 years old (with my parents and three brothers), went to college in Caronport, Saskatchewan, married Steve and lived in Edmonton, Alberta, Terrace, BC and Lethbridge, Alberta. I have lived in many parts of Canada and I have seen how each part in uniquely beautiful while being strangely similar. Canada is a great country where we have the freedom to teach and learn at a Christian school.

I have been married to Steve for 30 years. We have four children, Eric, Charissa, Sarah and Jon. Eric is married to Ashley, Charissa is married to Steven, Sarah is a student at the University of Lethbridge, and Jon is a student at Douglas College in Vancouver. I am now a grandma because Eric and Ashley had a little boy, Rhys, on Aug.14, 2014 and Charissa and Steven had a little girl, Brooklyn, on July 14, 2015. I am very proud of all my kids.

Shortly after we moved to Lethbridge for Steve's job as a pastor at the Evangelical Free Church, I was diagnosed with breast cancer. This was a shock and it thrust us into a world of medical tests, waiting, consultations, waiting, surgery, waiting, chemotherapy, waiting, trips to Calgary for radiation, waiting, no hair, wigs, lack of energy, and wonderful people. Our church family took such good care of us, and God met all my (our) needs, just at the right time, through them and others in the community. This experience strengthened my faith. It also made us realize that if I wanted to be a teacher I better get to it. I finished treatment in April and I was a full time student at the University of Lethbridge in September. I graduated in 2008, subbed in town and in Ft. Macleod, and then started working at LCS. It has been a busy and fantastic trip to where I am today.

I love to help out at the church we attend, St. Augustine's Anglican Church. I love to hike, backpack, camp (in a tent), travel, read, and watch movies. I love the Arts, all forms, because they tell stories that touch the emotions. I love stories and the beauty, or tragedy, that lies within them. I often see God more clearly, and on a deeper level, when I enter into others' stories. I am very thankful for the story God wrote for me.