Back to all posts
Posted on
FIRST day of SCHOOL 2023-2024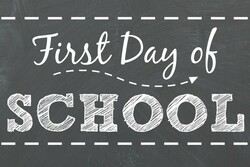 We would like to welcome all of our students at LCS in Grades 1-8 to the 2023-2024 with an Open House on Tuesday, September 5 from 9:30-2:30 to drop off all school supplies, pop in to see their classrooms, meet their new teachers, and re-orient themselves to a new school year. This is a come and go event, and no designated time slots will be needed. We would love to say hello to our students and families and make the transition to the next school grade as smooth as possible. There will be no bussing until Wednesday, September 6th.
We will be welcoming ALL students to their FIRST official day of school on Wednesday, September 6th. This will be a full day of classes for all students in Grades 1-8.
Staggered entry for Kindergarten will be during that week on designated dates from September 5-8. Parents will be notified by email when to come for Kindergarten staggered entry.